A strategy based on sensory marketing can provide a range of opportunities for your restaurant, continue reading this article to discover how sensory marketing influences your restaurant.
What is sensory marketing in a restaurant?
Sensory marketing is a strategy that seeks to involve the senses such as sight, smell, hearing, taste and touch in experiences that reinforce your brand in the mind of your client.
In your restaurant you are continually creating experiences for your guests and you may or may not be aware of this, but what do you think if I tell you that with a sensory marketing strategy you can turn those experiences into tools to position your restaurant and increase your sales.
To achieve this, it is important that your strategy is a complete and unforgettable experience, that the customer immediately associates with your restaurant and that they want to repeat.
Let's see the following points that will help you create your own strategy.
What color should you choose for your restaurant?
The visual aspect in your restaurant is a primary issue in the food industry, choosing the right colors is essential to lay the foundations of your sensory marketing strategy.
Love is born from sight and fortunately we have color psychology that can also be applied to the gastronomic sector:
Red color in your restaurant
Increases appetite and energy, red is very common for fast food restaurants as it has an immediate boost and it has been proven that diners eat more, but at the same time it represents a sector of meat or highly processed foods so you should use it with care.
Blue color in your restaurant
In the restaurant sector, blue is one of the least appetizing colors so it should be used intelligently and without dominating, for seafood restaurants it is an appropriate color since it reflects the color of the water, giving the facilities a fresh twist, there will only be to know how to combine it.
Orange color for your restaurant
Energy and youth are some of the main qualities of this color, in your restaurant you should use it with caution so as not to reflect immaturity, the orange color used properly in your restaurant promotes conversation by making your customers enjoy eating in your establishment.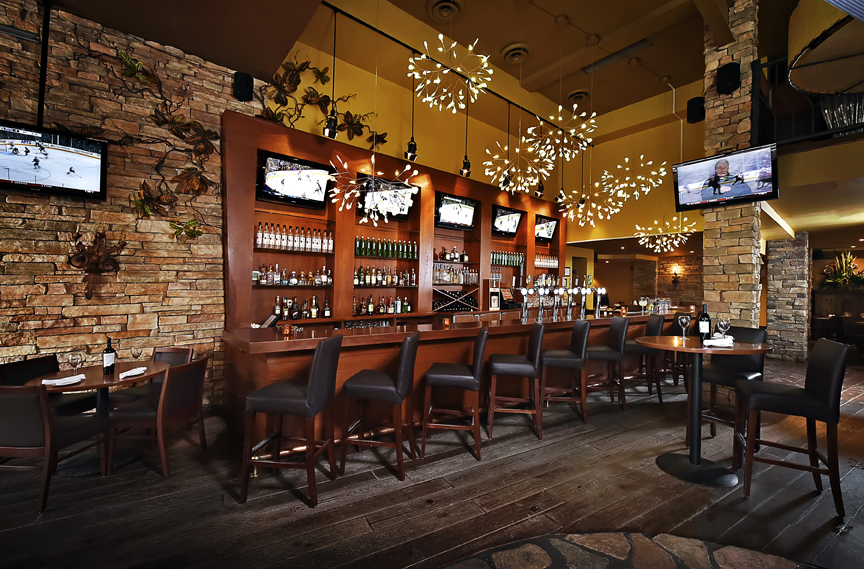 Yellow color for your restaurant
The correct shade of yellow evokes joy and optimism, it is a color that invites your guests to analyze and its use in excess puts your customers on alert so you must find the right tone that is relaxing to observe, always accompanied by other colors to minimize its impact on your restaurant
The green color in your restaurant
This color is a trend and is being used by many restaurants due to the rise of organic food, green is a predominant color in nature and is directly related to healthy, fresh and the environment, in restaurants there are many alternatives to use it , starting with the creation of green areas and color combinations in the spaces of your establishment.
After the green color, coffee is a color highly connected with nature and organic, its use in your restaurant shows your relationship with the environment and a high degree of commitment to nature.
White, black or gray color in your restaurant
The correct combination of these colors will strengthen the sophisticated side of your restaurant, individually white represents purity, black elegance and gray maturity, taken to extremes they can represent insipidity, darkness and depression, you can combine them with other colors and create different environments.
Orange and black can convey luxury, orange and white convey freshness and gray with orange conveys modernity.
Remember that the colors of your brand are present in your establishment, in your social networks and packaging, so you must be congruent with the image you want to convey.
Conquer your clients by the nose?
Surely your restaurant emanates a peculiar smell that delights the smell of your diners and that is not easy to replicate, a sensory strategy based on smell means enhancing the smells of your kitchen by finding a particular aroma that represents you.
If you make pastries, a sweet smell accentuated with cinnamon and pastry cream can be the olfactory hallmark of your establishment or, on the contrary, for a sports bar the smell of freshly made fried foods with a touch of spices awaken the appetite of your guests.
You have to be careful with the way you transmit these aromas, setting specific points where to enhance them, if you are outdoors you must persuade the noses of all passersby, if you are inside a square you must enhance the aromas just when you open the door and welcome to the diner.
Always be in control of the places where your aroma will be present and avoid overexposing customers allowing you to enjoy the aromas of your other dishes on the menu.
How to create experiences through touch?
Surely you wonder if it is possible and it certainly is, it represents a great challenge, but your restaurant can create sensory experiences through touch.
Restaurants around the world use this sense to create unique experiences for their customers such is the case of Dans le noir? the first chain of restaurants where you eat completely in the dark and are served by waiters who are blind or visually impaired.
Wimpy, a fast food restaurant chain, chose to make its hamburgers an inclusive product, writing in braille with sesame the phrase: "100% beef hamburger made for you" being a gesture accepted by society.
An alternative to offer a sensory experience through touch in your restaurant is thanks to technology, moving your traditional menu to digital, allowing diners to interact with photos, descriptions and more details of your products.
What kind of music should I play in my restaurant?
The listening experience is very important when positioning your restaurant, certain genres of music apply to fast food restaurants, others to bars or cafes, but an important issue when setting your restaurant is the copyright of music in Mexico.
There are alternatives to set your restaurant like the platform www.soundtrackyourbrand.com recommended and that works in a similar way as Spotify, the difference is the type of commercial license that allows you to play the music in your restaurant.
There are more options such as live setting with a band or trio, background music without copyright or tuning in to programs on the radio or TV, but remember that your efforts should be aimed at creating an environment with the ideal music for your clients.
How to stimulate taste?
Finally, the most important sensory stimulus for your restaurant is taste, and in this matter you are the expert creating dishes with unforgettable flavors that invite your customers to return.
Professional tip for the Soft Restaurant community: Your system has a recipe section where you can store the quantities and ingredients necessary to create your culinary works.
We invite you to participate in our webinar on "How Sensory Marketing influences your restaurant" is a free webinar, sign up at: